What's the issue?
During the recent electric crisis in Texas, the Texas Railroad Commission issued an emergency order directing that gas flowing on its local distribution companies be prioritized for use at gas-driven electric power plants ahead of all other uses except human needs gas consumption.
Why does it matter?
While gas supply is not the focus of the current investigations and recriminations, the reliability or "resilience" of gas supply will eventually be reviewed by FERC and others.
What's our view?
Pipelines are required to provide firm service to their shippers, but there have always been services that are better than firm service, and pipelines may want to look at providing enhanced services for which they can generate a premium.
---
The Texas Railroad Commission (TRRC) anticipated that Valentine's weekend could be a very difficult period for the electric grid in Texas. So, on Friday, February 12, it issued an emergency order that required the gas distribution companies it regulates to modify the priority of service provisions in their tariffs for the coming week, and then extended the emergency order through February 23. The order directed that deliveries of gas to electric generation facilities that serve human needs customers -- including residential customers, medical facilities, schools and churches -- should be given priority over all other demands except for direct deliveries of gas to such human needs customers.
Despite these efforts to direct gas to where it was most needed, Texas suffered an electric generation crisis that is still reverberating throughout the industry. One issue that will come under review in the various investigations will undoubtedly be how reliable or resilient the gas supply was for the gas-driven generators. We expect that review to mainly focus on the reliability of supply, but as evidenced by the TRRC's order, the priority granted to pipeline capacity may also become a focus. While FERC requires all interstate pipelines to provide a "firm" transportation service, some pipelines also provide combined services that can provide greater flexibility to certain shippers, often for a premium rate. In anticipation of a requirement that electric generators take steps to improve the resilience of their gas supply, pipelines may want to begin a review of the services that they can offer to address such concerns while also perhaps improving the returns on their invested capital.
Flavors of Firm Pipeline Capacity
In 1992, when FERC unbundled the sale and transportation of natural gas, FERC Order 636 required all pipelines to offer firm and interruptible transportation services. In addition, however, FERC required the pipelines that currently offered a bundled sale and transportation service to offer an enhanced form of firm service referred to as no-notice, firm transportation service. As explained by FERC at that time, this "no-notice" service would enable pipeline customers to receive unnominated volumes to meet unexpected requirements caused, for example, by unexpected changes in temperature. Thus, pipeline customers would continue to be able to receive "varying volumes of gas to meet their fluctuating needs during a twenty-four hour period." FERC has also allowed pipelines to offer other combinations of rights that provide shippers with more flexibility than that provided by plain vanilla firm transportation.
One response to the crisis in Texas may be that electric generators are simply required to have firm contracts on pipelines so that they do not have to rely on super-priorities like those found in the TRRC's emergency order. But pipelines may want to begin considering whether there are forms of "enhanced" firm services that they may be able to offer to electric generators that will not only provide those generators with a more flexible supply of gas, but also allow the pipeline to generate revenue greater than it currently gets for its plain vanilla firm services.
No-Notice Service
As we describe above, this form of firm service is more flexible than plain firm service because the customer is allowed to take gas from the pipeline at a rate higher than the amount it has nominated for the day without the risk of incurring any penalties under the pipeline's penalty provisions. The amount of such no-notice service on the pipelines that existed in 1992 varies widely across the industry. Some have no current contracts for their no-notice service.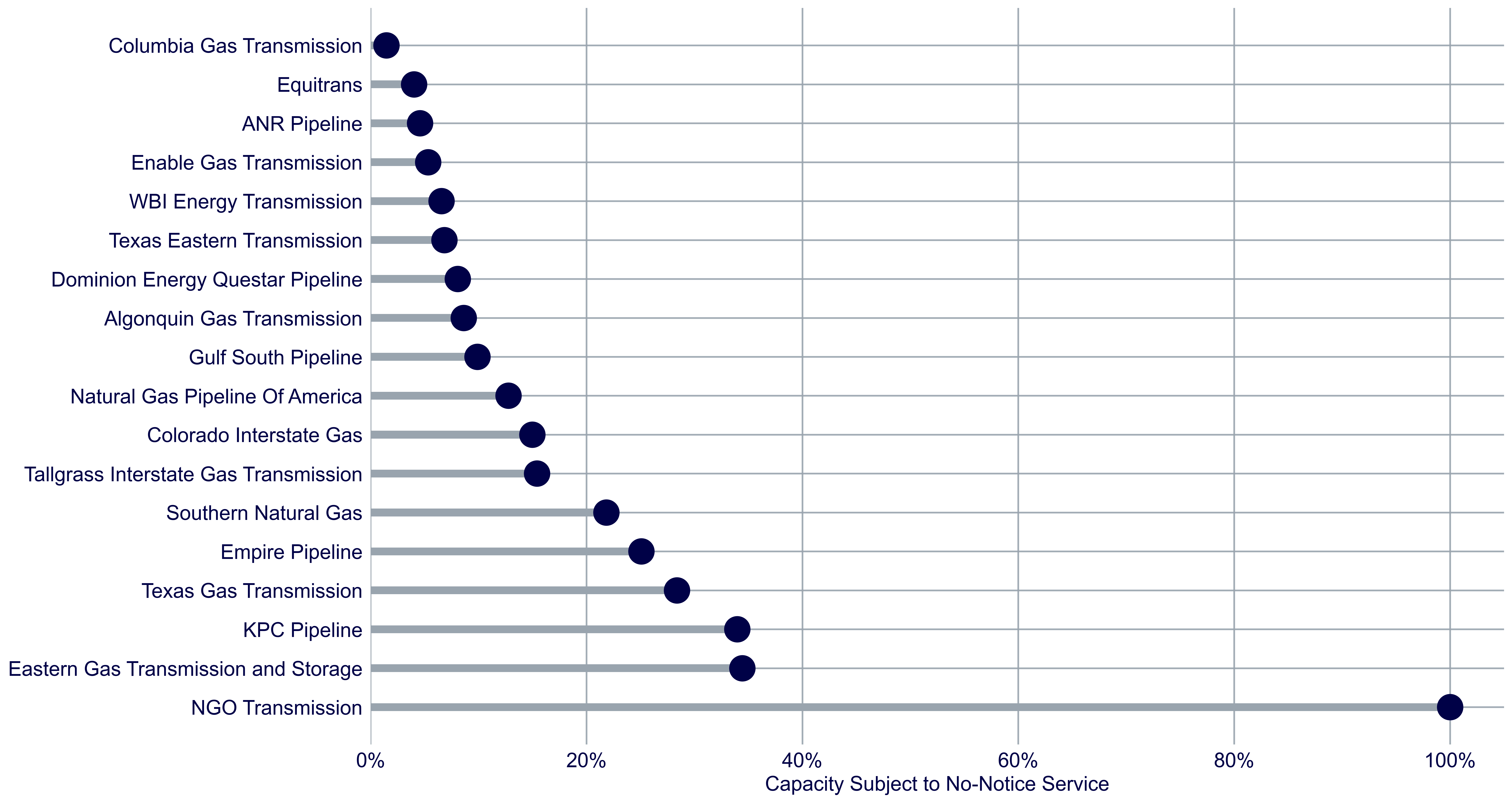 As seen above, of those pipelines with these no-notice customers, some have less than 2% of their capacity subject to this no-notice service, while for other pipelines, it accounts for more than 30% of their total contracted capacity.
Not surprisingly, given FERC's reasoning for requiring this service offering in 1992, the shippers that have the most of this type of capacity on the pipelines are the major local gas distribution companies.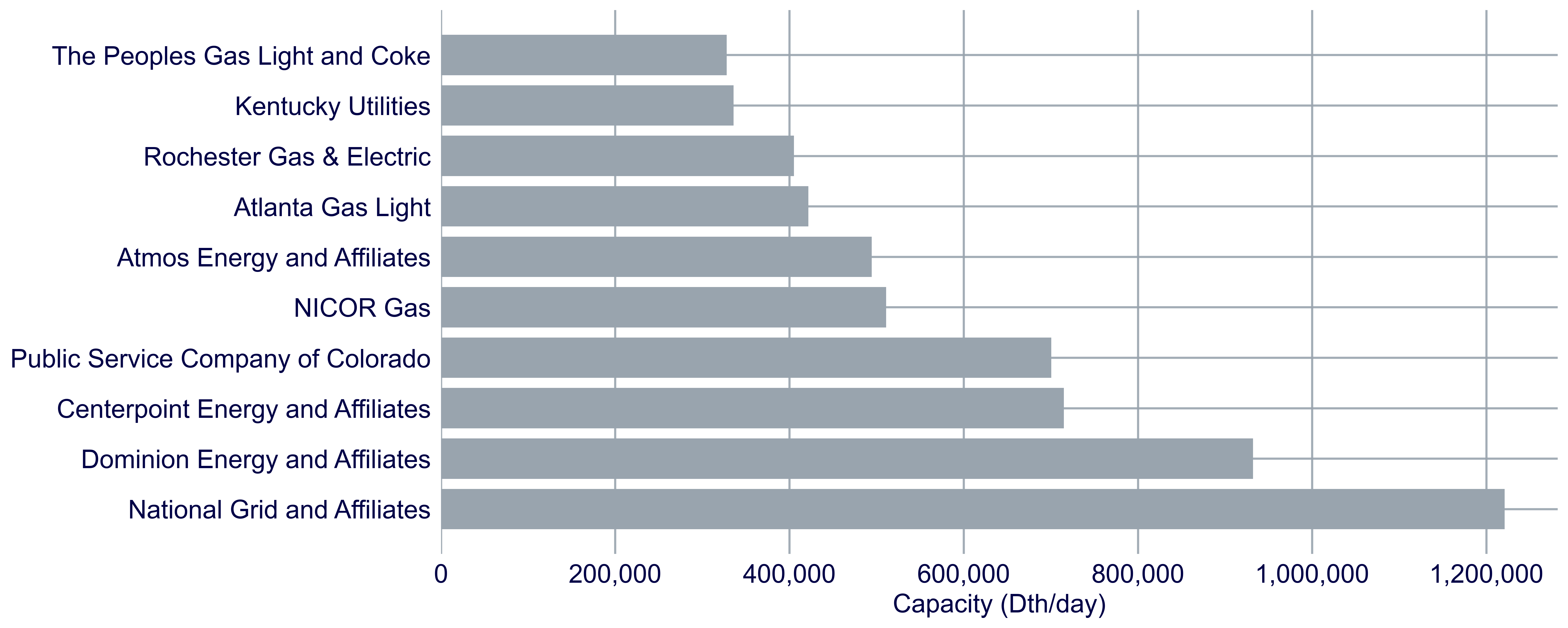 Enhanced Firm Service
FERC's tariff rules allow for certain types of enhancements to be added to the basket of traditional firm services. The adoption of such enhancements, however, has been very uneven across the industry. As shown below, there are some pipelines that have a majority of customers who have opted for these enhanced services, but most pipelines have no enhanced service offerings or at least have no customers who have opted to contract for such enhanced services.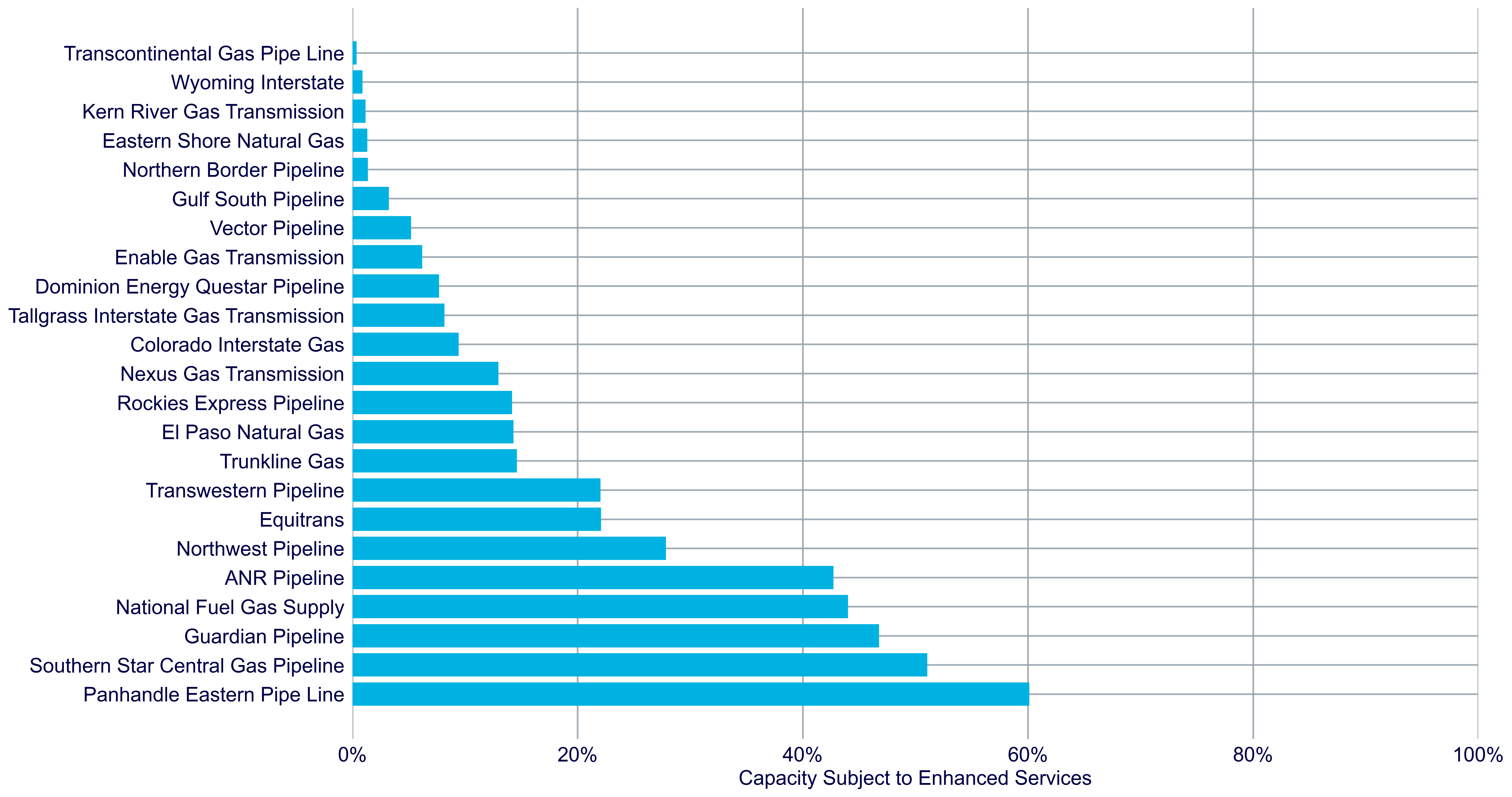 A look at some of the services offered by those that have successfully marketed their enhanced firm services shows that there are services being offered that could be responsive to the needs of electric generators.
Southern Star's Trans-Storage service combines a storage service with related firm transportation, which provides the shipper with the benefit of the combination of those services. It is clearly seen as valuable to the customers, given the high percentage who have opted for this service rather than Southern Star's firm service. One of the key resilience issues we expect to see come out of the Texas investigations is the reliance of the generators on gas being produced just in time for their needs and a lack of access to stored gas. Based on the anecdotal evidence, a key problem with the supply was that when wells or gathering lines froze, the gas generators had no access to gas supplies. It is hard to make the case that a generator is resilient to weather conditions if its fuel source is subject to disruption from the same weather event that could impact the need for the generation.
Panhandle Eastern's Enhanced Firm Transportation service provides a key flexibility not offered in its standard firm transportation service in that it allows the shipper to deliver gas on a uniform hourly basis, but to take gas at any rate consistent with available pipeline pressures, subject to Panhandle being allowed to limit such flexibility on certain days to an hourly take of no more than one-sixteenth of the shipper's nominations on that day. Because many shippers have variable demands, it is not surprising that such a high percentage of shippers have signed up for this service, which does carry a higher market zone access charge than the standard firm service. Given that electric generators are a key customer class that may need to take advantage of this type of flexibility, this is the type of enhanced firm service that other pipelines may want to explore in response to the Texas crisis.
ANR's Enhanced Transportation service is similar to Panhandle Eastern's in that it allows shippers to take from the pipeline at an hourly rate of up to one-sixteenth of the daily maximum delivery quantity under the contract. But in addition, it provides greater flexibility for secondary point delivery rights by stating that the transportation service provided is not subject to the contractual primary routes for nomination and scheduling purposes. The primary route is used only for calculating the reservation charge. The reservation charges for the Enhanced Transportation service are generally higher than for the basic firm transportation service that ANR offers.
As the investigations into the Texas issues move forward, pipeline companies may want to follow those investigations and seek to determine whether a revision to their tariffs to offer enhanced firm services may allow the gas generators to demonstrate that gas-fired generation is a resilient asset in times of weather emergencies.
If you would like to discuss other examples of enhanced firm services, please
contact us
.