What's the issue?
President Biden is reported to have issued more executive orders by this point in his term than all prior administrations since Franklin Roosevelt's. Many of the orders have received coverage in the press and appear to be generally hostile to the energy industry, but others are reported to be very supportive of renewables.
Why does it matter?
While executive orders may reveal a president's views, they often do not actually accomplish much and are often misconstrued as to their real-world impact.
What's our view?
The Keystone XL order is unusual in that it actually concerns an issue over which the president has direct control. Most of the other executive orders set policy goals, seek information and direct that plans be drawn up. But it is often necessary to look beyond the headlines and to the actual text to understand the real-world impact on issues such as oil and gas drilling bans, which are not as they seem, or apparently aggressive renewable energy goals that are actually quite tame.


---
President Biden is apparently ahead of all prior administrations since Franklin Delano Roosevelt's in the issuance of executive orders. Some of these executive orders actually impact the real world, but that is usually limited to those that simply revoke prior executive orders. As we discuss below, the revocation of a prior executive order is essentially what occurred with regard to Keystone XL. But most of the executive orders issued so far have been primarily statements of policy with limited immediate impact. Despite this fact, the press reports around these actions often discuss these orders as if the policy identified in them were implemented by the order itself.
This is typically not true, and many of the executive orders that have been reported as being harmful to the oil and gas industry are far from having any material effect. While the policies stated in these orders may be alarming to the industry, it is not correct to assume that they will have any immediate impact in the real world.
Keystone XL
The executive order on Keystone XL illuminates both the limits of executive orders and the type of executive orders that can have a real and immediate impact. On his first day in office, President Biden issued an executive order titled Executive Order on Protecting Public Health and the Environment and Restoring Science to Tackle the Climate Crisis. While that order set forth a policy of the new administration, in most cases, it merely directed agencies to consider, "as appropriate and consistent with applicable law," whether to take any action to implement the new policy. The key limitation there is "as consistent with applicable law," which would include compliance with the Administrative Procedure Act -- which means we are months, if not years, away from any final agency actions.
The executive action with regard to Keystone XL was materially different. The executive order actually revoked a presidential permit that had been granted on March 29, 2019 that we discussed in President Trumps All or Does He? As we noted at that time, the key purpose of the March 2019 order was to moot the challenges pending in federal court over the propriety of the previous permit issued by the Secretary of State, which were being challenged for failing to comply with the National Environmental Policy Act (NEPA). By having the president issue it directly, the court challenges were trumped because a president's actions are not subject to NEPA. However, perhaps in an effort to make the permit immune from court challenge, President Trump inserted a provision that ultimately allowed President Biden to immediately revoke the prior decision. Section 1 of President Trump's order provided that the permit granted to Keystone XL "may be terminated, revoked, or amended at any time at the sole discretion of the President of the United States." It was this provision that allowed President Biden to revoke the permit with his pen, without complying with any further procedures. This shows both the strength and limitation of such orders. Because the prior order was issued without needing to comply with the various provisions of the law that apply to typical executive agency actions, the prior permit could be swept away without complying with those same provisions that typically provide stability and judicial oversight to administrative actions.
Moratorium on Oil and Gas Leases and Drilling Permits
On January 20, the Acting Secretary of the Department of Interior issued a letter that many interpreted as a ban on the issuance of any onshore or offshore leases or permits to drill for oil and gas. However, the statement was actually not that far-reaching. Instead, it suspended, for 60 days, all prior delegations of authority to staff to issue such permits. In other words, for the first 60 days of the new administration, those decisions now have to be made by an appointed or acting official serving as the Secretary, Deputy Secretary, Solicitor or Assistant Secretary. We have looked at the approved permits for drilling issued in the month of January for both offshore and onshore leases. While the pause seems to have slowed the issuance of such permits, it has not caused a complete cessation in the issuance of either onshore or offshore drilling permits.



This withdrawal of delegated authority was followed on January 27 by an executive order titled Executive Order on Tackling the Climate Crisis at Home and Abroad. In that order, President Biden directed the Secretary of the Interior to "pause new oil and natural gas leases on public lands or in offshore waters." However, like most of the other orders issued, this one limited this directive to the "extent consistent with applicable law." While this action was immediately challenged in court by the Western Energy Alliance, such a challenge seems premature at best.
A press release issued by the Department of Interior made it clear just how limited the action truly was. As that press release noted, the pause "does not impact existing operations or permits for valid, existing leases, which are continuing to be reviewed and approved. The order does not restrict energy activities on private or state lands, or lands that the United States holds in trust or restricted status for Tribes or individual Indians." In addition, at least for offshore leases, the schedule of lease sales was established under the Obama administration. While there is a lease sale currently underway, it is unclear whether the pause will delay the opening of those bids scheduled for March 17.
As for onshore leases, the Bureau of Land Management is obligated to prepare land use plans for the lands it manages, and those plans serve as the initial determinant for whether leasing is available. Because the executive order is restricted to the "extent consistent with applicable law," it is likely that we are months, if not years, away from any changes being made to the land use plans. In the meantime, we will continue to follow the lawsuit filed by the Western Energy Alliance.
A Big Boost for Offshore Wind
In addition to pausing the development of oil and gas resources on federal lands, the Executive Order on Tackling the Climate Crisis at Home and Abroad contained a provision that directed the Secretary of the Interior to review siting and permitting processes in offshore waters to identify steps that can be taken, with the goal of "doubling offshore wind by 2030." As we discussed in Which States Will Fail to Meet Their Offshore Wind Goals?, the regulatory process required to plan, site and construct a wind farm offshore is so long that if a project is not currently under consideration, it is very unlikely that it will be available before 2035. So how realistic is it to project a doubling in the country's offshore wind production by 2030? Well, actually because we are starting at such a low number, it is not a very lofty goal, and it is unlikely that it will be influenced by anything the Biden administration actually does.
The only offshore wind farm in commercial operation in the entire U.S. is the Block Island Wind Farm, which first came online in 2016. It consists of only five 6-MW turbines off the coast of Block Island, Rhode Island. According to the Energy Information Administration (EIA), the percentage of electricity produced in Rhode Island in 2019 from all forms of wind energy, including the 43 megawatts of generating capacity at about a dozen onshore wind farms, as well as the Block Island Wind Farm, was only 2.8% of the state's net generation.
So if you assume that Block Island represents half of all of Rhode Island's current wind power, then doubling that number by 2030 would mean the goal that the Biden plan sets is to provide a total of 2.8% of Rhode Island's total electricity by 2030. Normally, we would provide a visual showing how much this growth in offshore wind energy would represent as a part of the nation's total electricity production. However, the contribution is too small to even register. According to the EIA's data, Rhode Island's wind energy equates to 0.0057% of the nation's total electricity production for the first eleven months of 2020. What we can show you is that, if the Biden administration had set the goal for a doubling of the current output every year between now and 2030, by 2030, offshore wind would represent less than 6% of the nation's total current electricity production.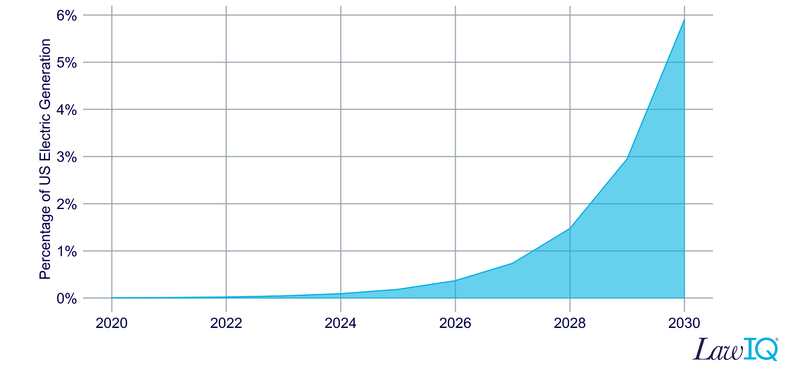 The actual Biden goal will be easily met without any action by his administration, provided that Dominion Energy's Coastal Virginia Offshore Wind, Phase II stays on schedule. The demonstration phase of this project — Phase I — which consists of only two turbines with a design capacity of 12 MW, went into service in 2020. The commercial phase of the project — Phase II — is planned to include 180 turbines with a capacity of 2,640 MW and is scheduled to be in service by 2026. If it can meet that timeline, it would even meet a more aggressive goal of doubling the offshore wind capacity every year, while also demonstrating that even that goal would not satisfy the energy needs of this country. Finally, as the EIA notes in its discussion of the Block Island Wind Farm, Rhode Island is already one of the lowest producers of carbon dioxide in the country, which is primarily due to the fact that 91% of its electricity is produced from natural gas-fired power plants.
A data-driven view can help put President Biden's plans in perspective.
Schedule a call

with our team to dive deeper on these new policies.